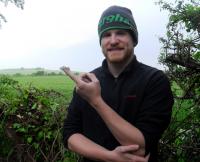 About
My research quantifies the impact of human activities, e.g. farming and habitat restoration, on natural resources and wild species (especially insects). I hope to identify management solutions that reconcile biodiversity and environmental public goods with the sustainable harvest of food and fuel. Drawing on data from boots on the ground and/or sensors overhead, my work contributes to:

1) Rigorous long-term monitoring of the state of biodiversity and natural resources, from pollinators to soils.

2) Analysis of the drivers of change in biodiversity and natural resources, identifying key trade-offs and win-win solutions.

3) Creative presentation of findings through papers, reports, maps, graphics and applications.
Organisation
UKCEH - Soils & Land Use